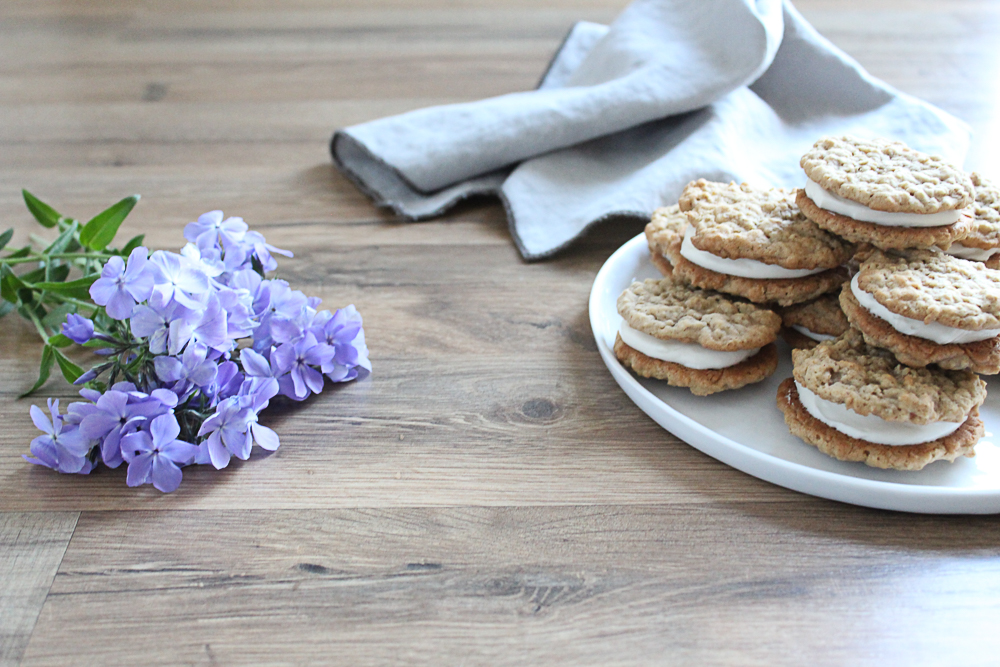 Oatmeal Cream Whoopie Pies
2 c. brown sugar                                    2 eggs
1 t. baking powder                                2 1/2 c. flour
1/2 c. butter, softened                         1/2 t. salt
3 T. boiling water                                 2 c. quick oats
1/4 c. shortening                                  1 t. ground cinnamon
1 t. baking soda
Preheat oven to 350 degrees. Cream brown sugar, butter and shortening. Add eggs and mix. Add salt, cinnamon and baking powder and mix. Combine baking soda and boiling water, then add to the bowl and mix. Add flour and oatmeal and mix well. Scoop dough onto silpat on cookie sheets in rounded heaping teaspoons. Bake for 8-10 minutes, being careful not to burn. Remove from oven and transfer to cooling rack. Let the cookies cool completely. Sandwich 2 cookies with approx.  2 T. cream cheese frosting (recipe to follow).
Cream Cheese Frosting
1/2 c. butter, softened                            1 t. vanilla
1 block cream cheese, softened            3-4 T. milk
3 c. powdered sugar
Cream butter and cream cheese till smooth. Add 1/2 of the powdered sugar, vanilla and 2 T. milk and combine. Add remaining powdered sugar and milk till desired consistency. Combine well.