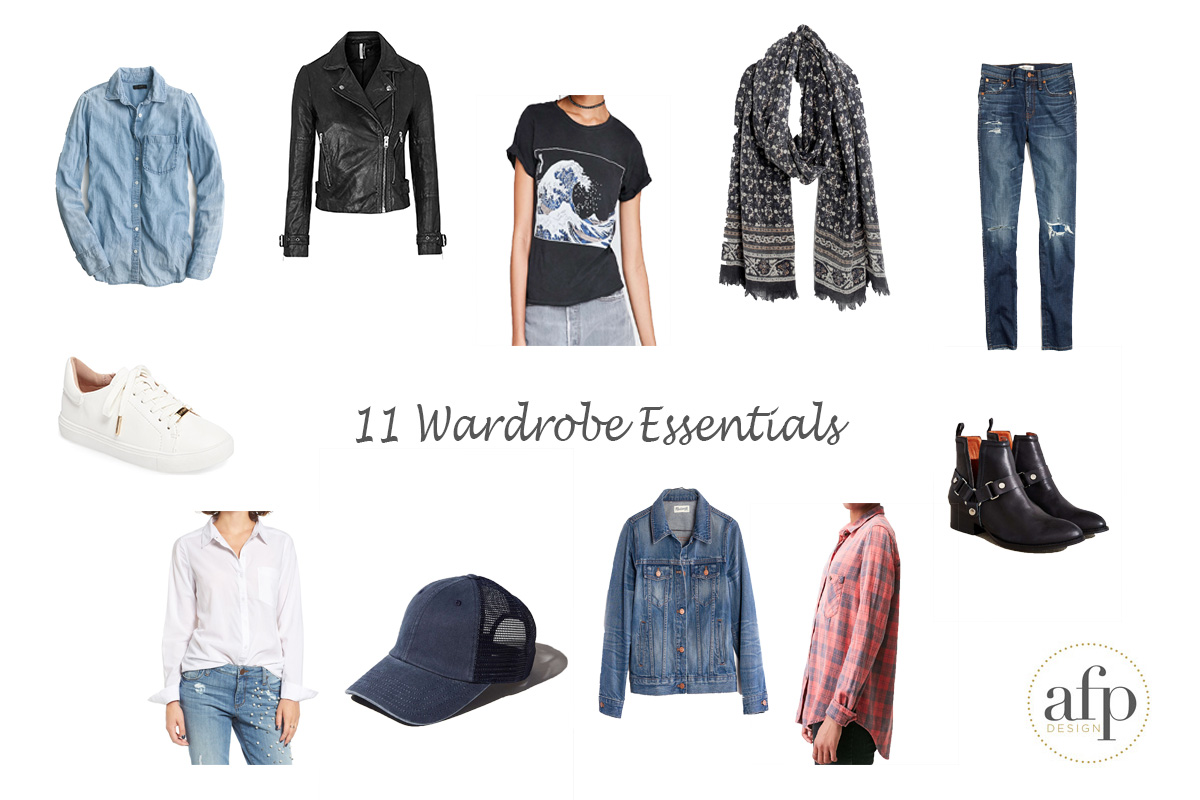 So I've been helping clients a ton lately with paring down their closets to only the items they wear often and helping them figure out how to fill in the gaps with pieces that they'll be able to layer, use during most seasons and keep their wardrobe current. I've finally been able narrow it down to these 11 pieces that I think are essential to any closet during any season.
This staple is perfect alone with a pair of jeans, layered under a sweater, T-shirt or sweatshirt or buttoned all the way up with a statement necklace. I wear mine during every season of the year in all different ways. I love that it can be casual or dressy, too.
Another great item that can be worn in any season of the year. It's perfect over a flowy summer dress, paired with a casual graphic tee or worn over a long sweater in the winter. I would definitely recommend one that is comfortable and has some stretch to it to maximize it's use.
There are so many great uses for a graphic tee. I love them under cardigans, tucked into a skirt or worn under denim overalls. It's a great way to bring in color and pattern to any outfit.
I say lightweight because then it can be used during more than one season. Spring and Fall are my favorite seasons for this type of scarf and are great when you don't really want to plan an outfit but throw on a cute scarf with a solid shirt and your outfit is automatically amped up.
Goes with everything, worn during any season and great dressed up or down- need I say more!
Paired with a cropped jean or worn with a t-shirt dress these add so much to a simple outfit, plus they're comfortable!
Fall, Winter and Spring are the perfect seasons for this shirt. This is my go-to for the 'I want to be comfortable but still cute look'.
Another great layering item in the spring, summer and fall, this jacket never seems to go out of style. I love to wear it with chunky scarves in the Fall, over sundresses in the summer and pretty much with anything in the spring.
The perfect solution to the 'no wash hair day' or the 'I don't want to do anything to my hair' day. Baseball caps make any outfit lighter and more fun.
This piece is timeless. I think any stylist would tell you the same thing. I layer it, I wear it alone, etc., etc. Paired with white jeans and any fun shoe (sandals, leopard flats, red booties) make the perfect statement outfit in any season. Add a fur to it in the winter and it's cozy, too.
I've had a love/hate relationship with these but right now I'm in love. T-shirt dresses, cropped jeans, short skirts- paired with a cute tennie and you can go all day long!