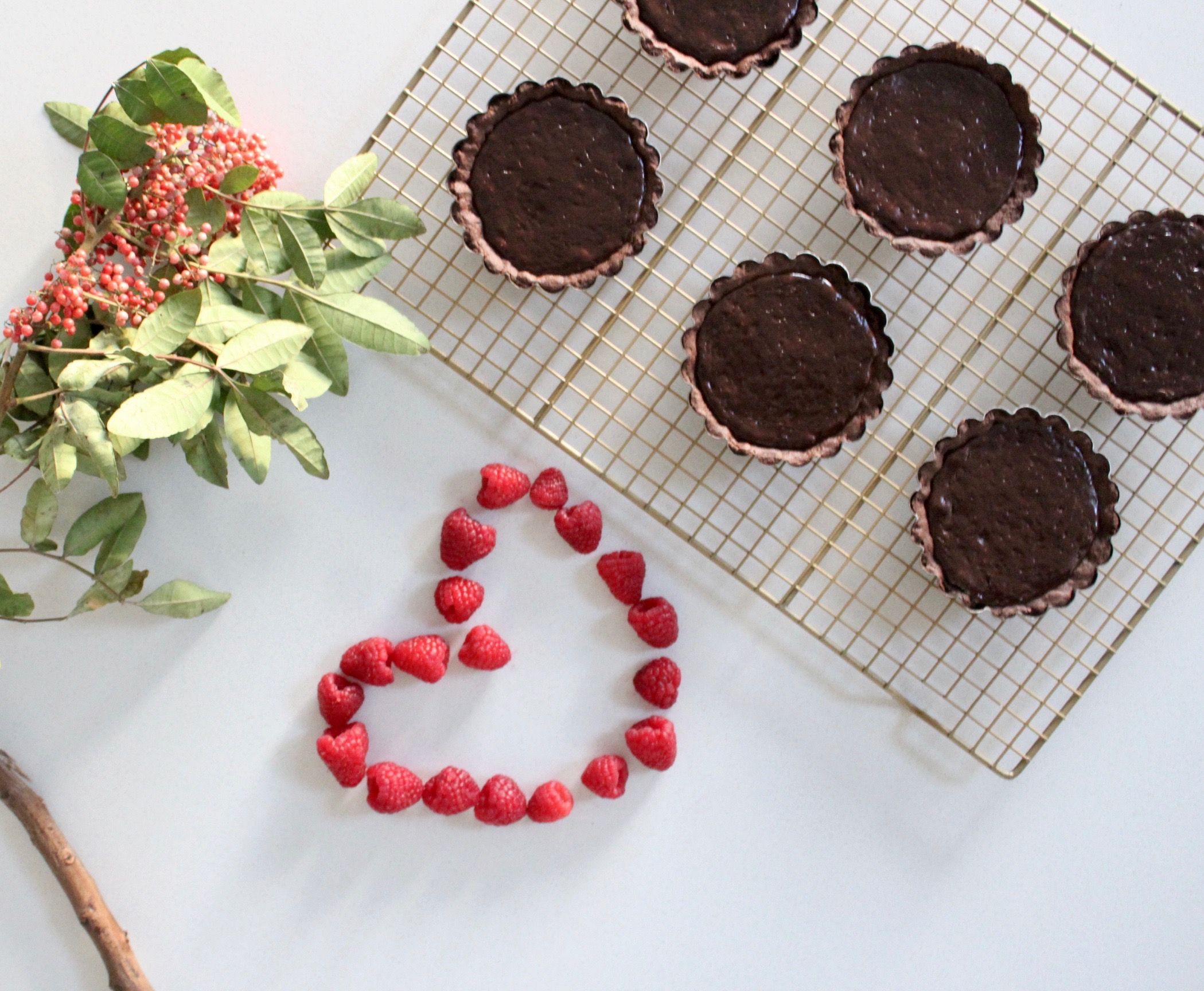 Tart Shell:
1 c. flour                                                      1/4 c. sugar
1 stick unsalted butter, room temp       1/8 t. salt
1/4 c. unsweetened cocoa powder         1/2 t. vanilla
Ganache filling:
10 oz. bittersweet chocolate, coarsely chopped
1/2 c. whole milk
1 c. heavy cream
1 large egg, lightly beaten




Coat tart pan (or mini tart pans) with cooking spray. Whisk together flour, cocoa and salt. Beat butter on medium speed till fluffy, about 3 min. Add sugar and beat till pale and fluffy, about 2 more min. Reduce speed to low. Add vanilla and flour mixture and mix till dough begins to hold together, 1-2 min. Wrap in plastic and refrigerate for 30 min. Roll out dough to 1/4 in. thickness. Press into prepared pan(or pans). Trim excess dough so it's flush with pan edge. Refrigerate for 1 hour. Bake shell at 325 degrees on a rimmed baking sheet till firm, about 25 min. Let cool completely on wire rack.
For filling: Place chocolate in bowl. Heat cream and milk in small saucepan over med/high heat till almost boiling/pour over chocolate. Let stand for 2 min. Slowly whisk till smooth. Let stand 10 min. more. Stir in egg. Return tart shell(s) to baking sheet and pour in filling. Bake till set, about 25 min. Let cool completely before removing from tart pan(s). Garnish with fresh whipped cream and raspberries if desired.