Most of us have been to the grocery store wanting or needing a quick flower pick up whether it's for an event or just to bring some life and color to your home. If you're like me, you find it's hard to pick up a bouquet that has all the elements your wanting in an arrangement, or maybe too many things going on like this one. There are just a few simple steps to making this bouquet look like it was purchased at a local flower shop instead of the grocery store.
Step 1:
Pick your vase.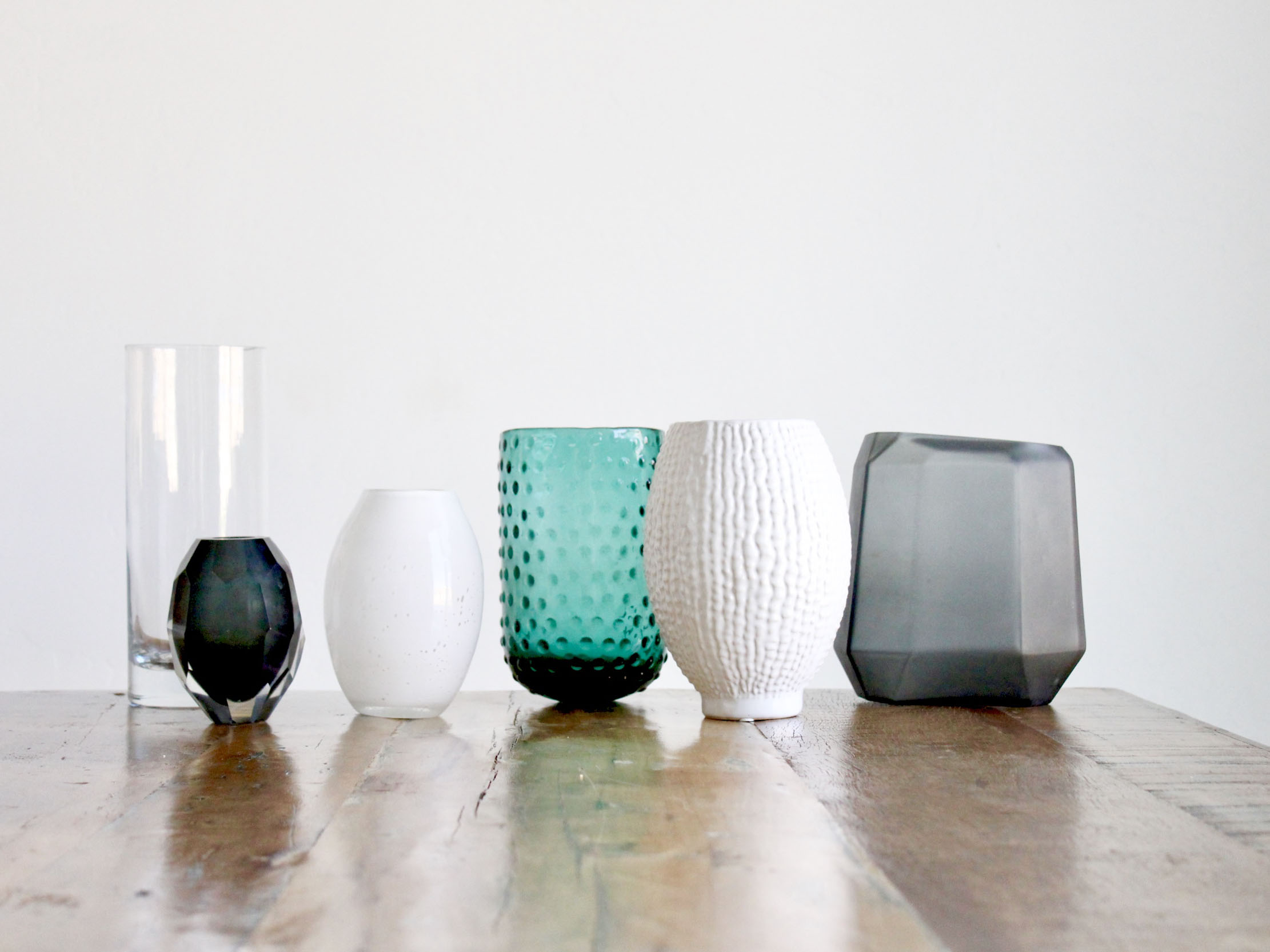 Wider mouth vases require more flowers to fill it and smaller mouth vases you can get away with just 1-4 stems. The height of the vase plays a factor as well depending if you'd like a lower or taller arrangement. I tend to use medium height vases without very large mouths so I can use the flowers to add height and I can get away with fewer stems to fill the vase.
Step 2:
Trim and feed.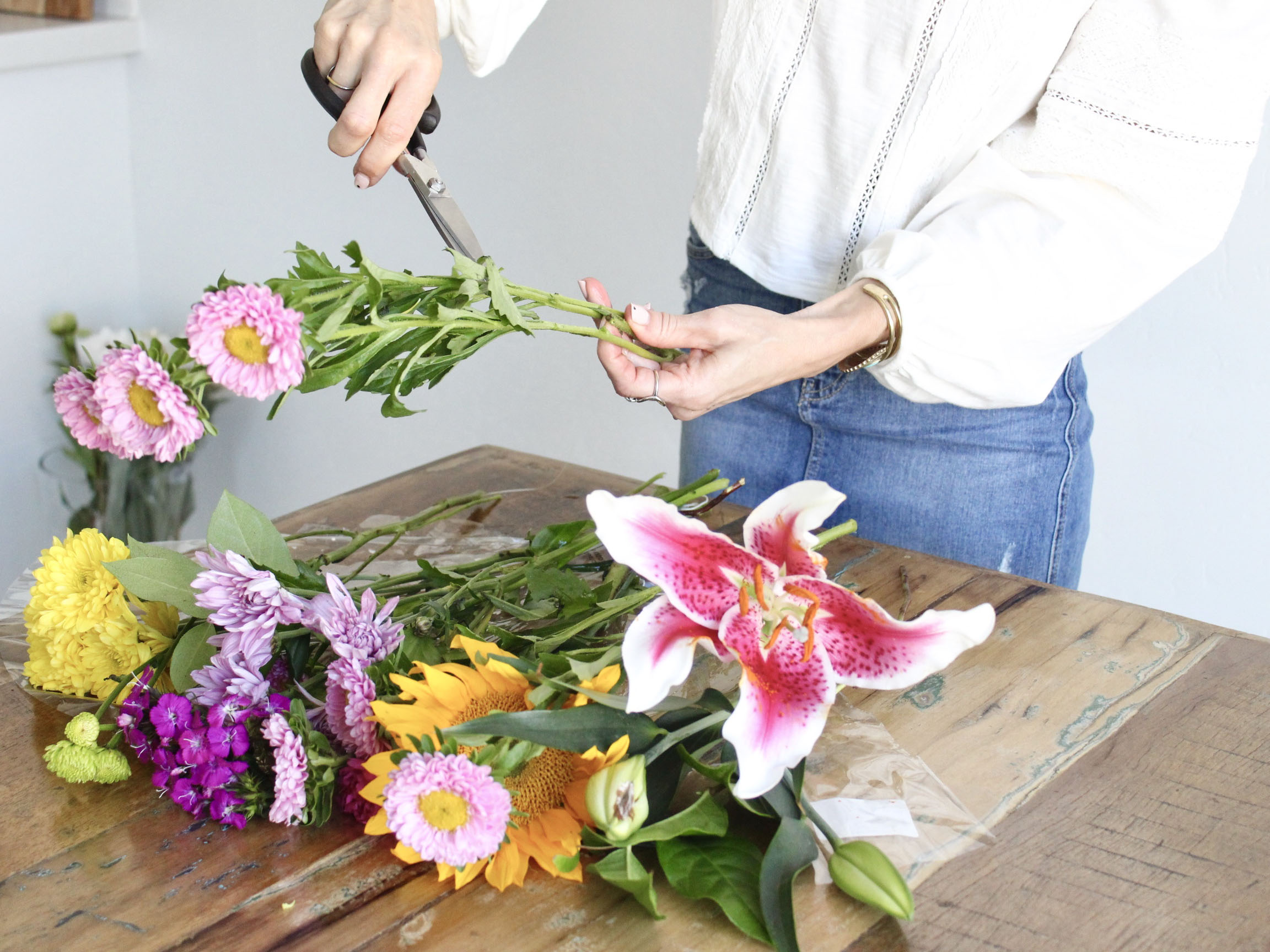 The cleaner the flower stems the better they will look in the vase and the longer the water will last that your flowers are sitting in because there is less foliage to discolor and stink it up. I use my kitchen scissors to remove any leaves that will be inside the vase. Some of the leaves at the top of the flower I keep on or if it's a flower that I will be using for height I will leave some of the lower leaves on as well.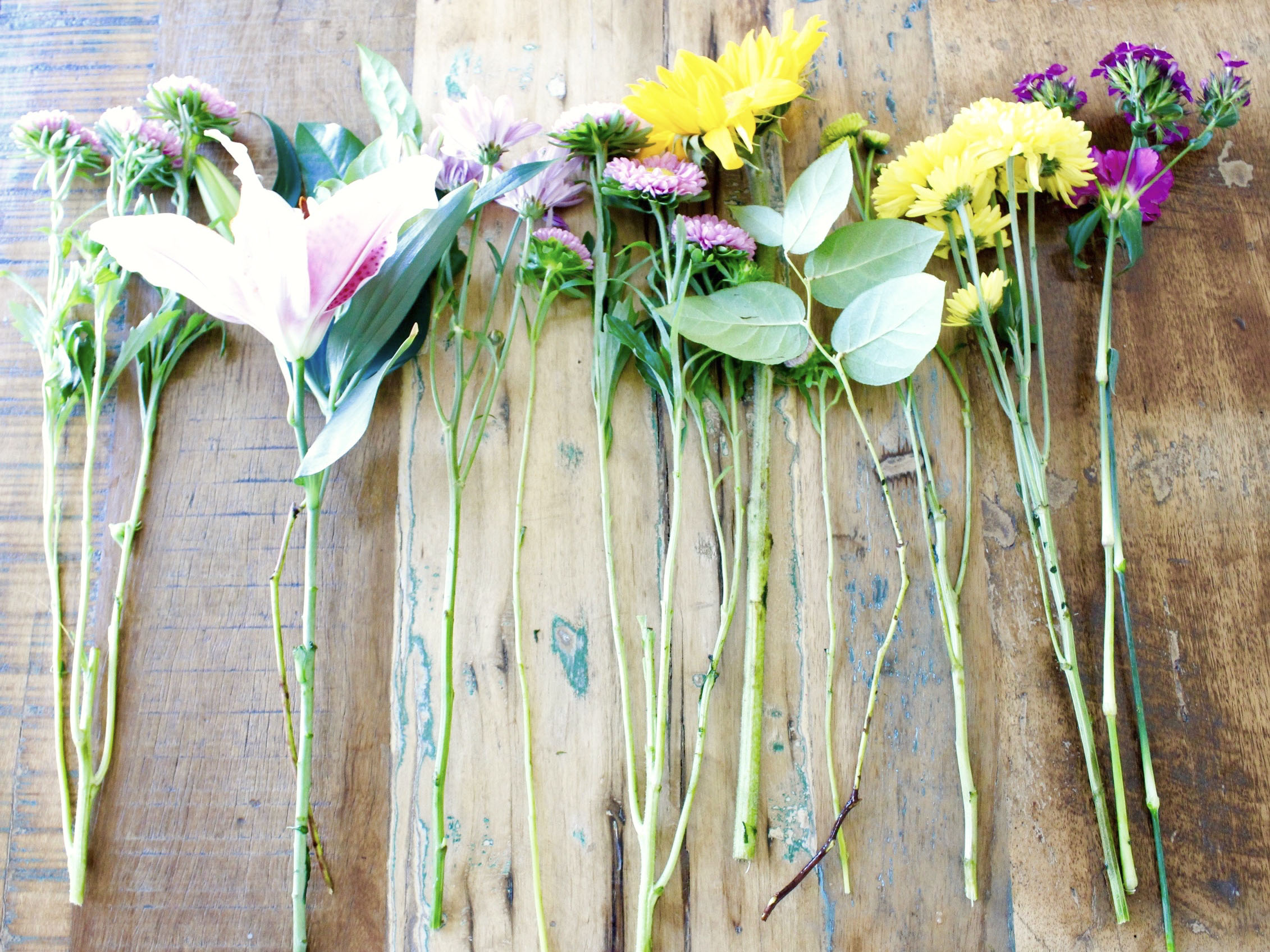 Use the flower food packet that you get at the store to prolong the life of your flowers. Just add it to a vase that's filled with room temperature water, 2/3 full.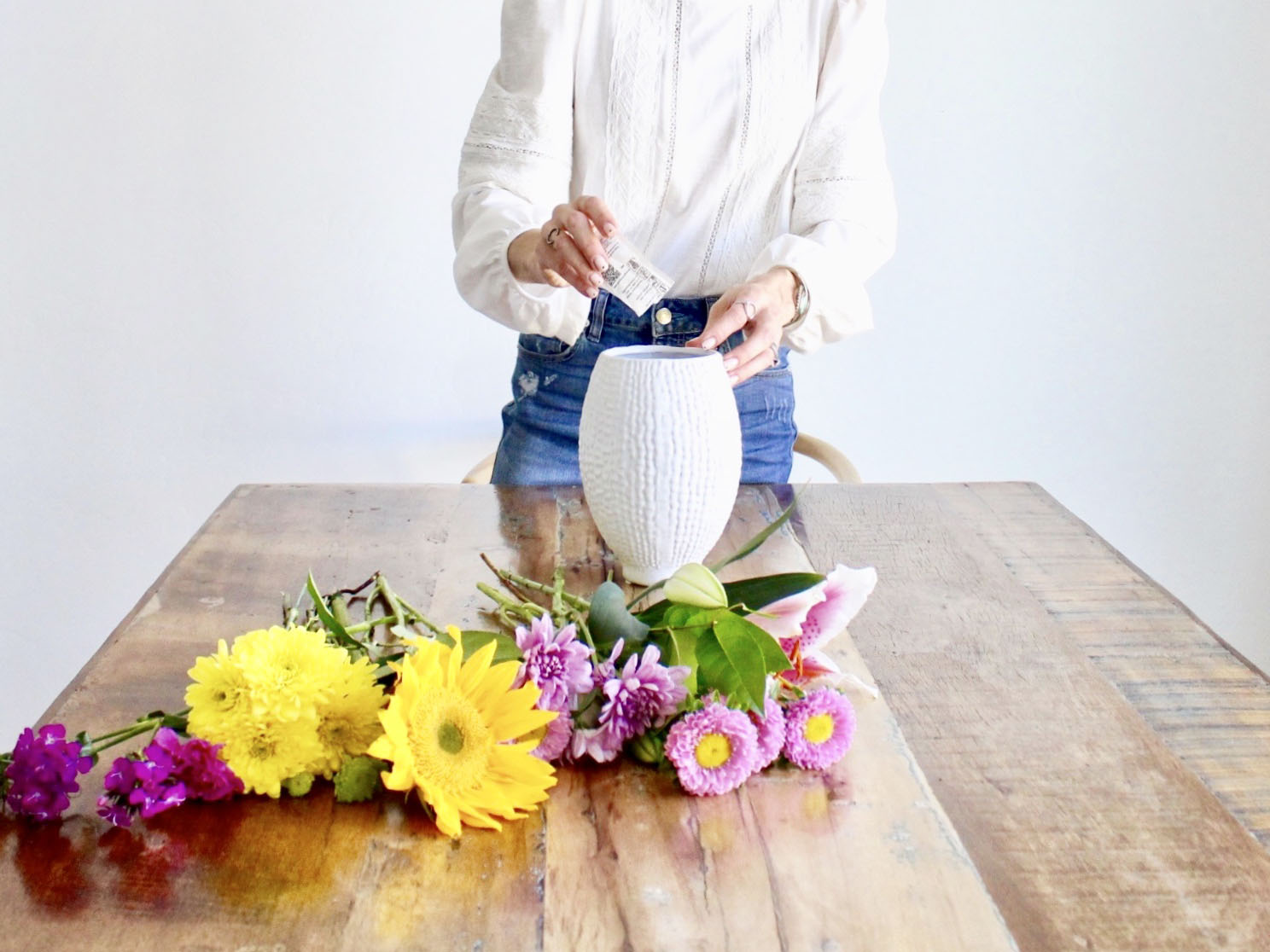 Step 3:
Remove & arrange.
A lot of times I don't like all of the flowers together that come in a single arrangement. It's OK to leave some of the flowers out!! We'll use them a different way later but don't feel like you have to use EVERYTHING that comes in the store bought bouquet.
I decided to leave out the yellow flowers of this arrangement so I set them aside.
Next, I usually start with the larger blooms first and put them toward the front of the vase where they can stand out the most. It's important that you trim the stem before putting it directly into your water-filled vase within at least 7 seconds of trimming. This will extend the life of your flowers which is always the goal.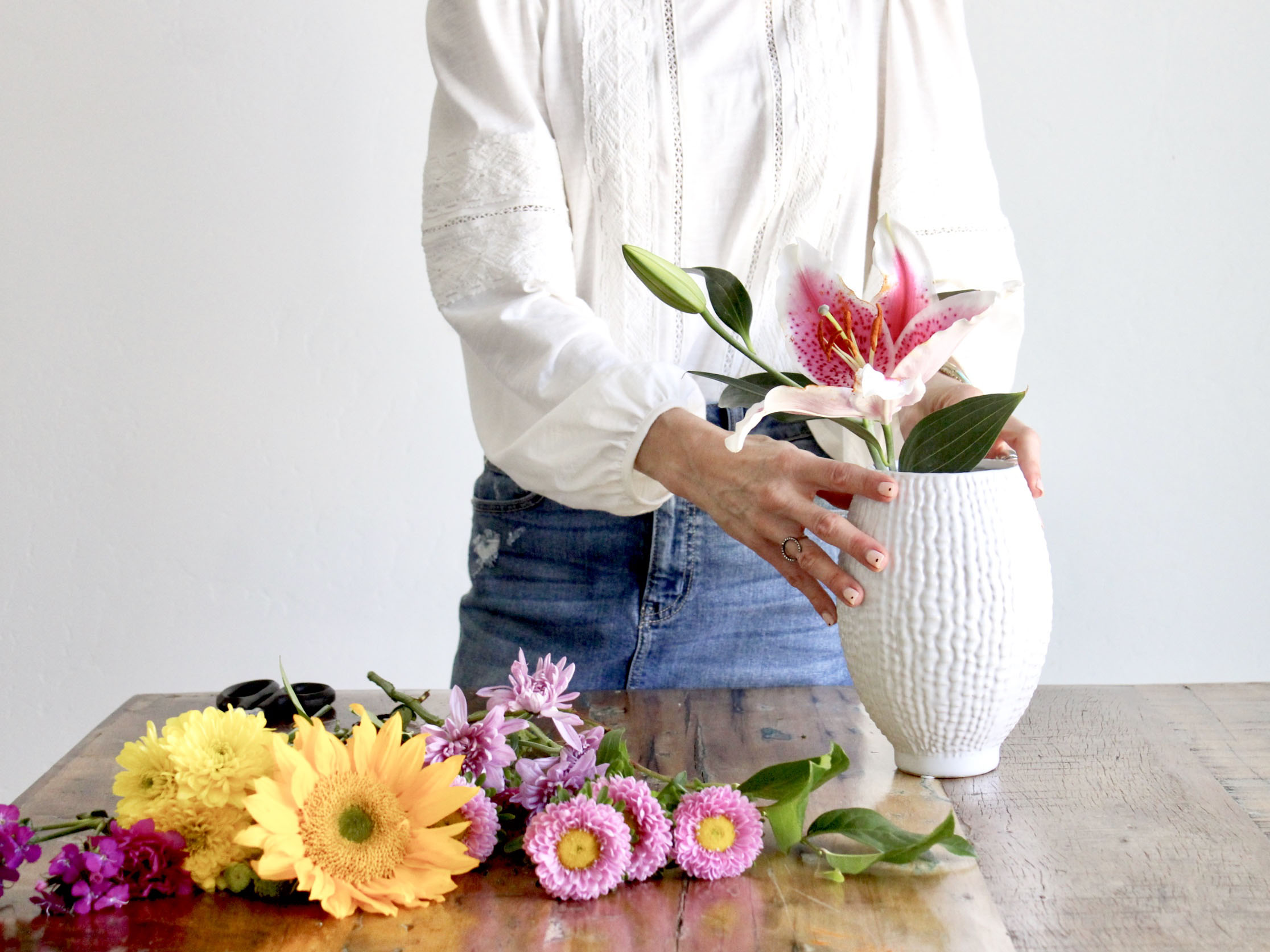 Then I start to add some of the other flowers, but I keep them grouped together for higher impact. However, I'll cut some of their stems shorter and keep some longer to make the arrangement more interesting instead of having everything at the same height.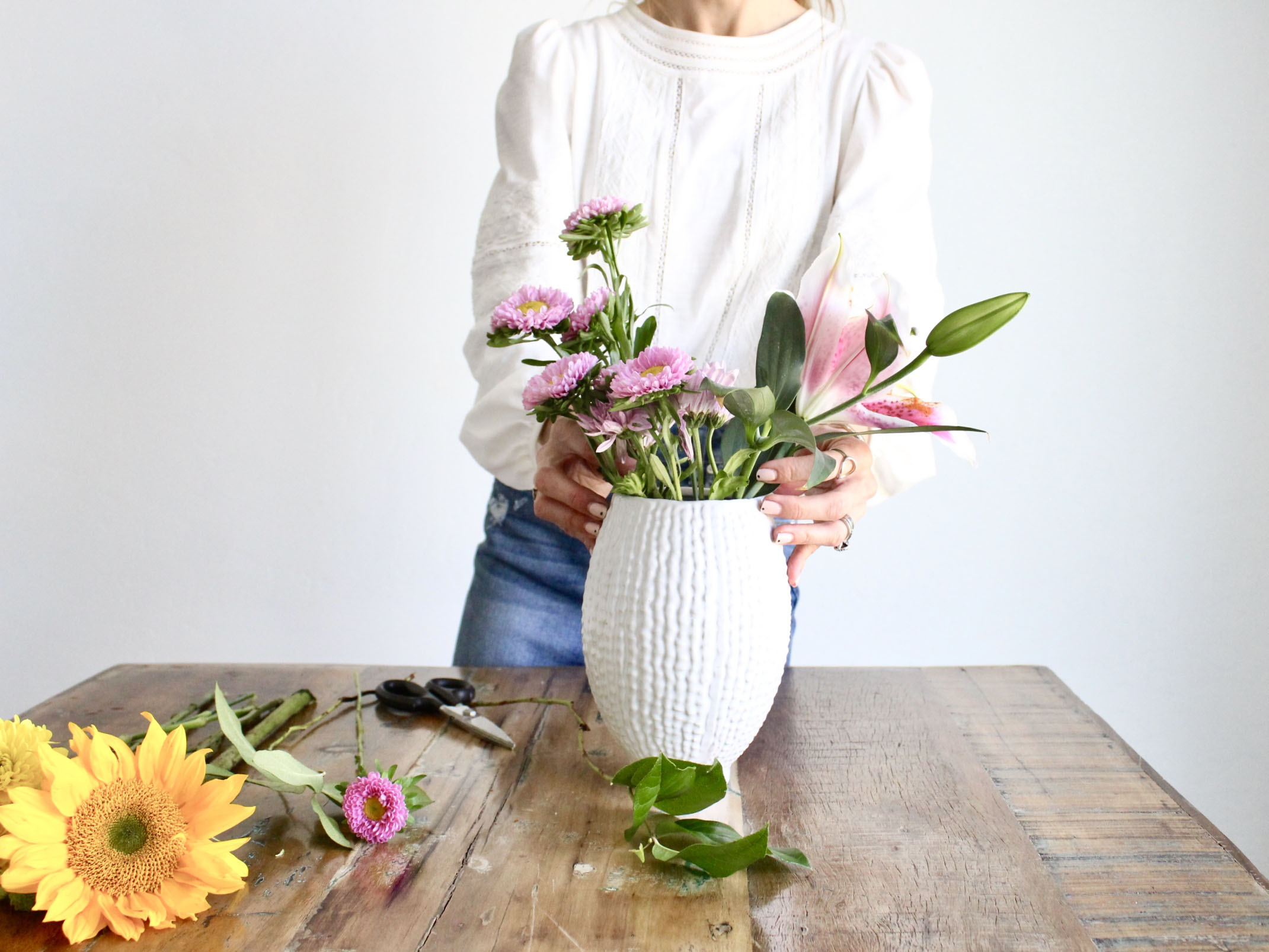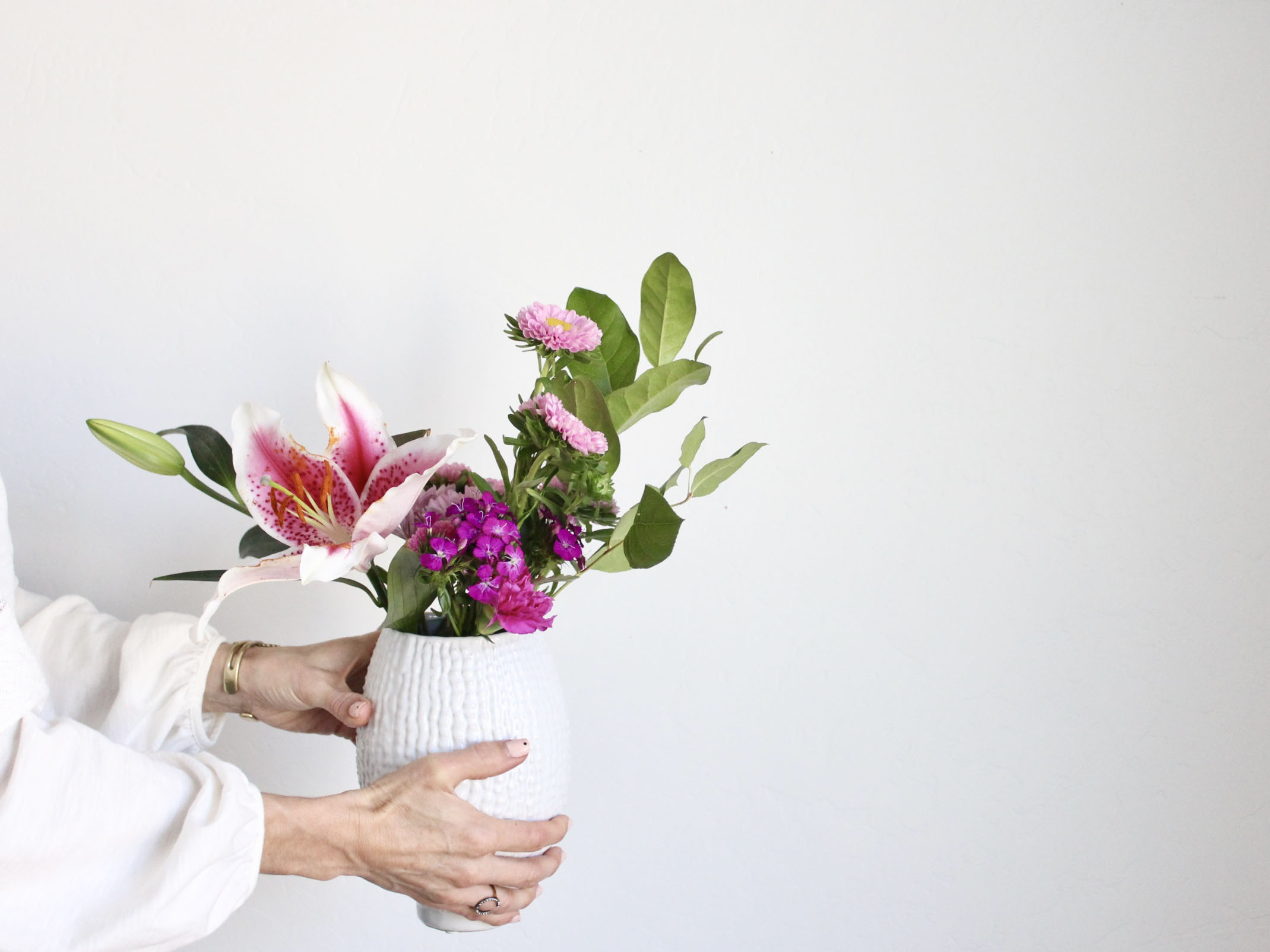 So this is what my arrangement would look like if I just used the grocery store items that I decided to keep from the bouquet I purchased- definitely better looking than what came in the packaging, but I like it to be more full and more diverse, sooooooooo, this next step is VERY important.
Step 4:
USE GREENERY AND FLOWERS FROM YOUR YARD TO FILL IN!
Maybe I'm stumping some of you right here, but I could almost 100% guarantee every single one of you either has a tree, bush or flowering plant growing in your yard in the front or the back. USE THEM!! Garden flowers are what make your arrangement unique and even more personal since it's coming from your yard.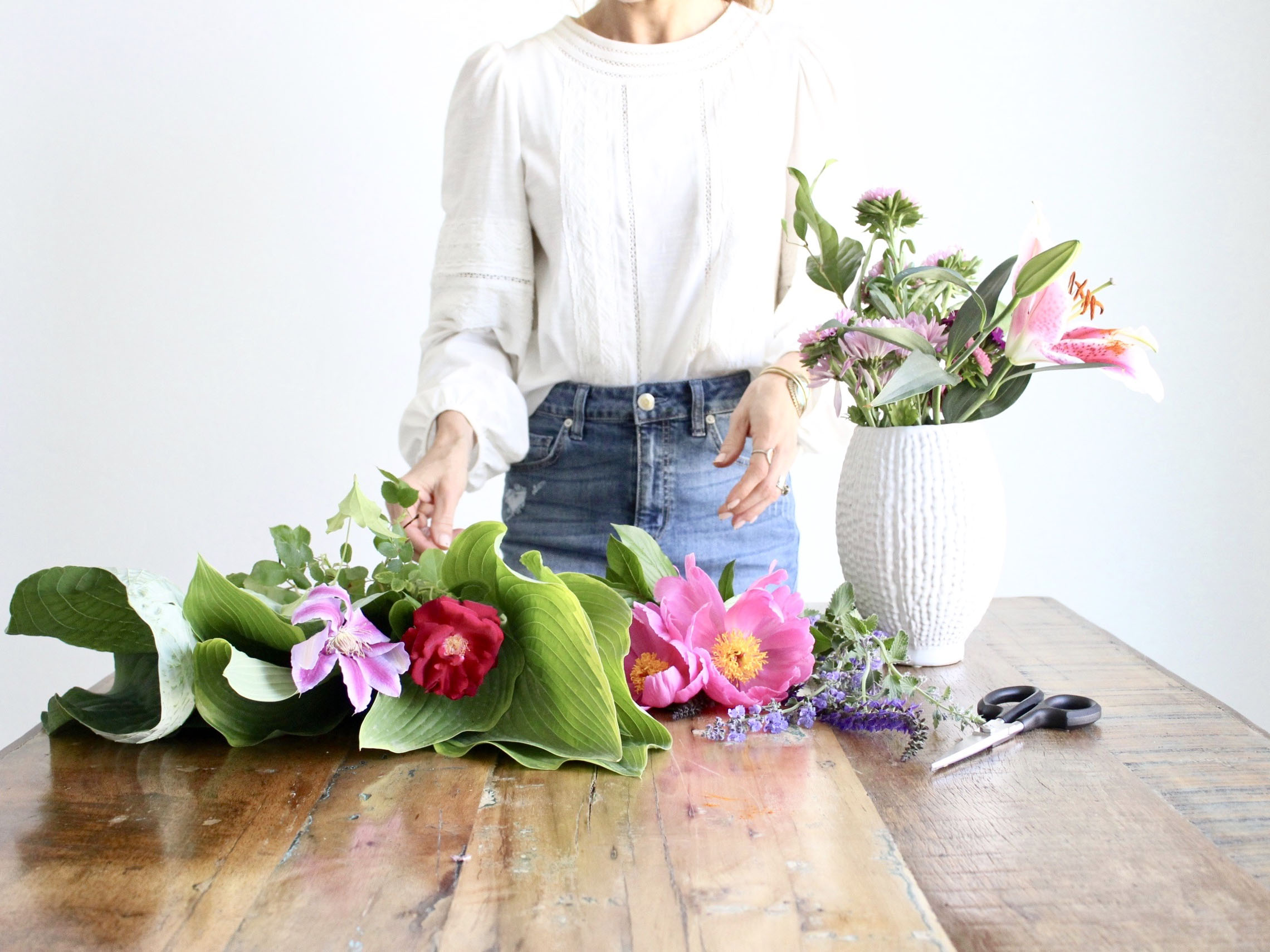 I haven't started my garden yet at our new house but this is what I pulled from the garden at our old house (luckily the new homeowner is a friend:). Hosta leaves, peonies, roses, clematis, greenery… We pulled a bunch just to see what we'd want to use. Then fill in the vase the same way you did with the grocery store flowers- bigger blooms first, then groupings of the smaller flowers and leaves next, cut at different lengths.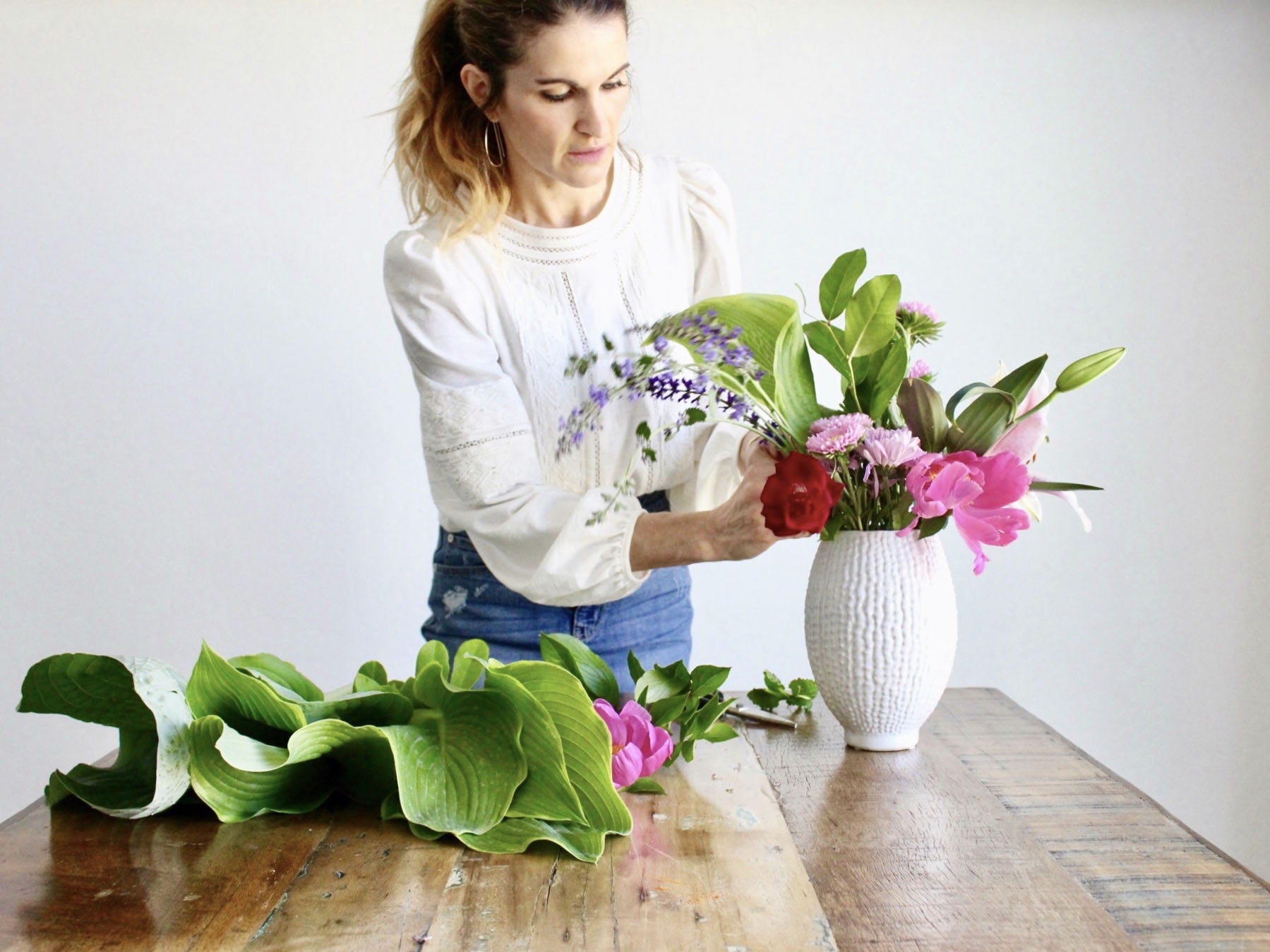 I like keeping some of the bigger blooms tight to the lip of the vase like I did with the peony and lily above. And I use the greenery on the outer edges.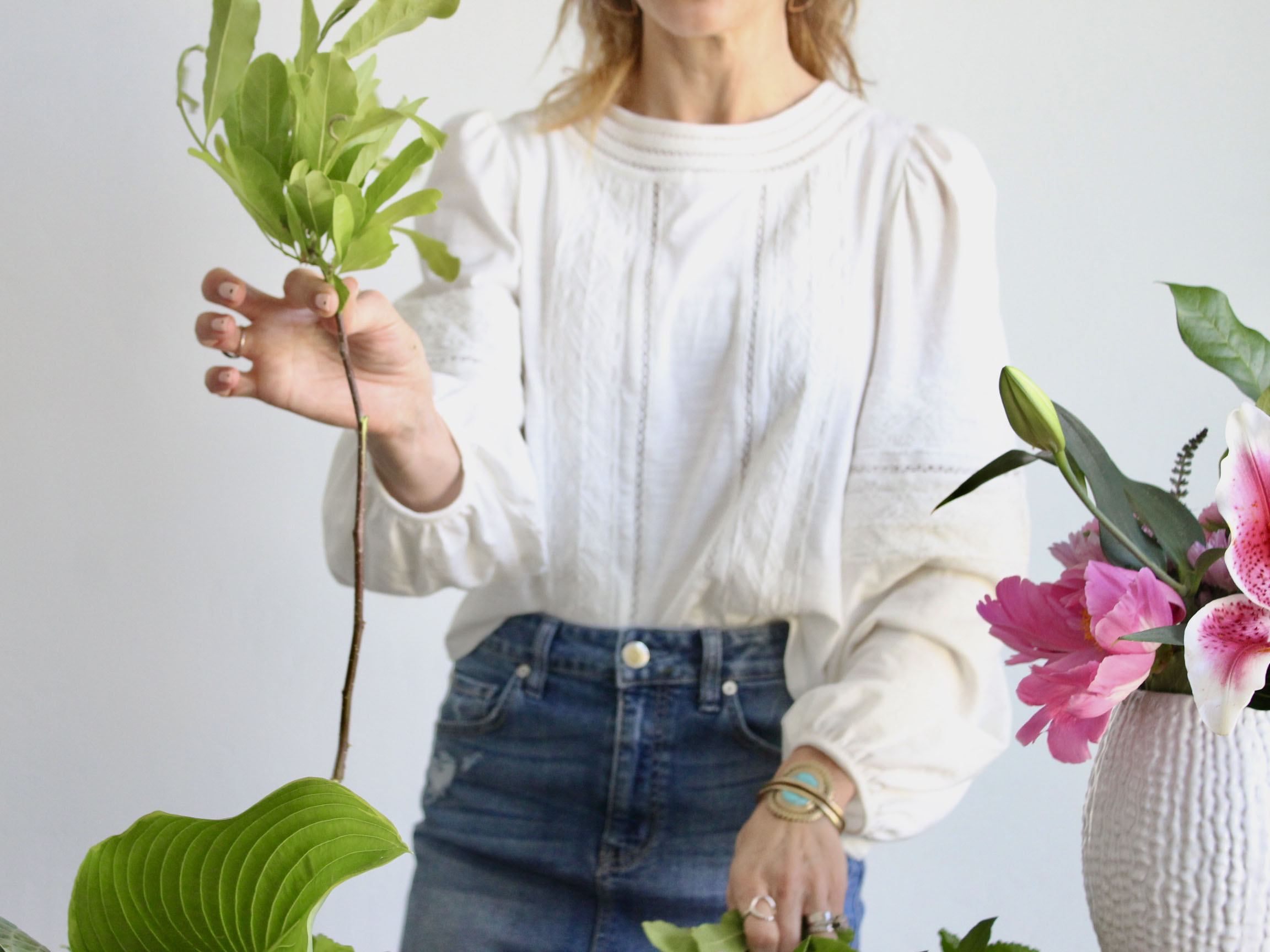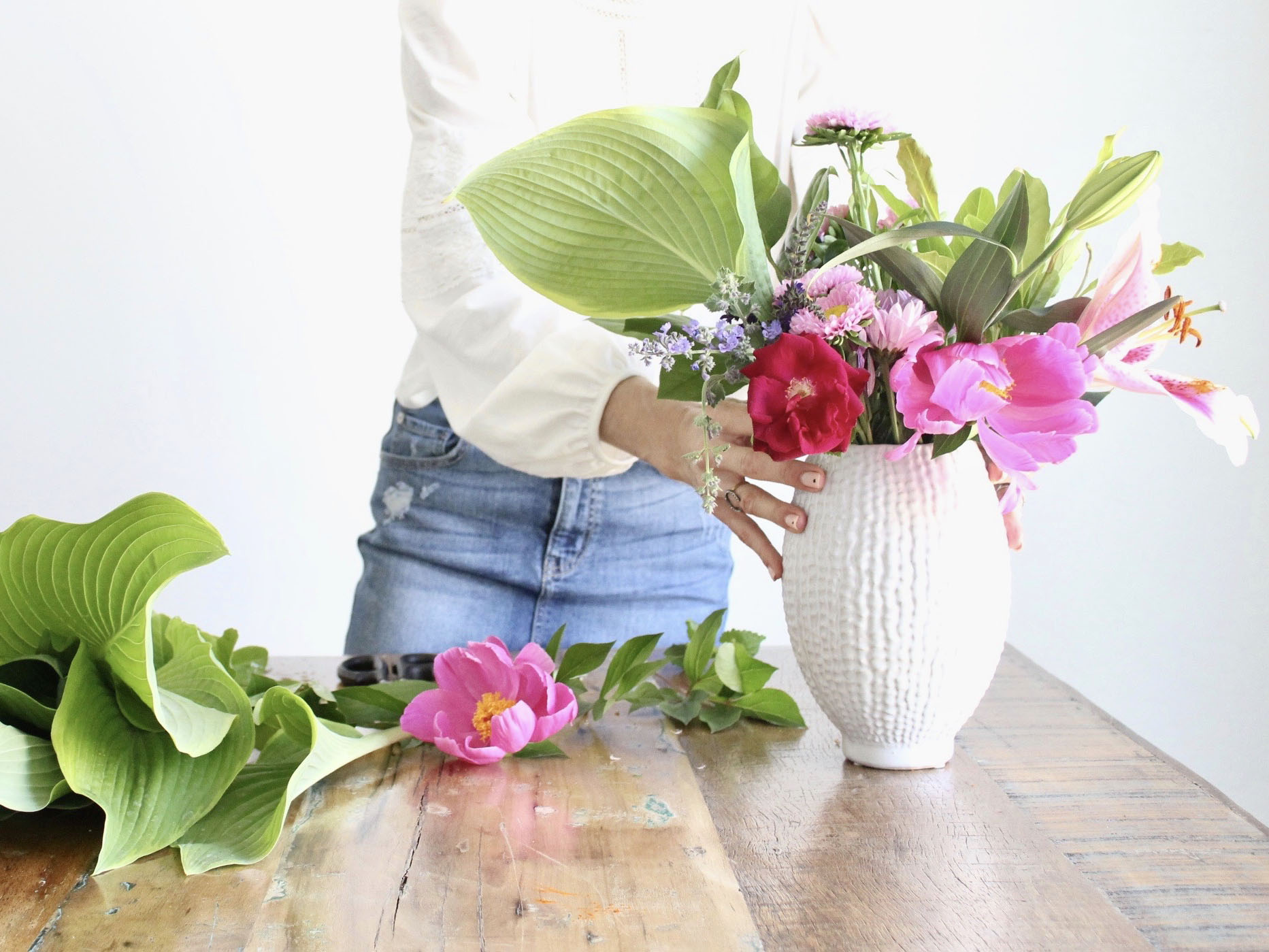 See how nicely it's getting filled in with just a few flowers from the garden?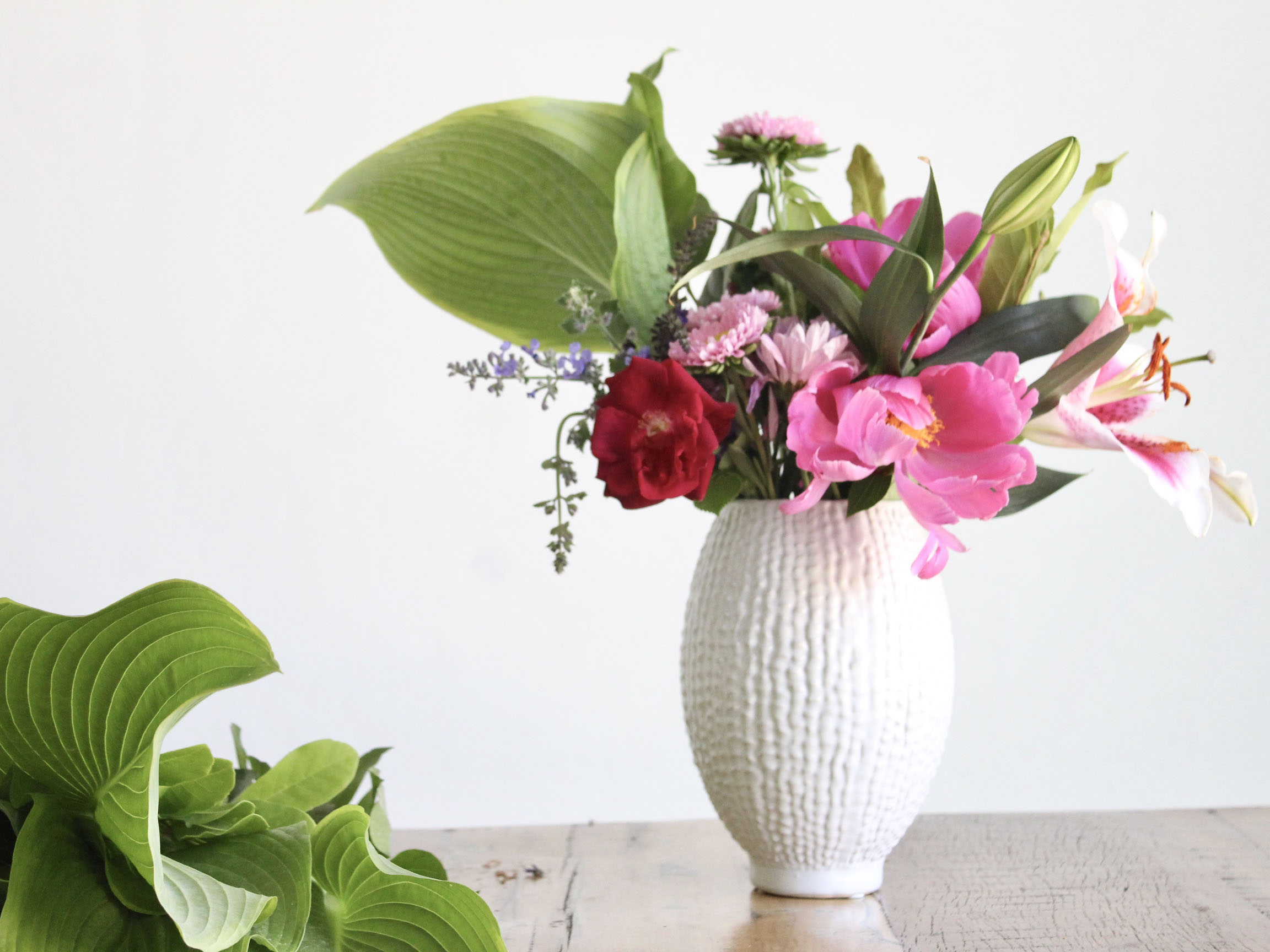 This is the first arrangement completed! Pretty much looks nothing like the grocery store purchase. And I didn't forget about the yellow flowers that I took out initially. I kept their arrangements simpler.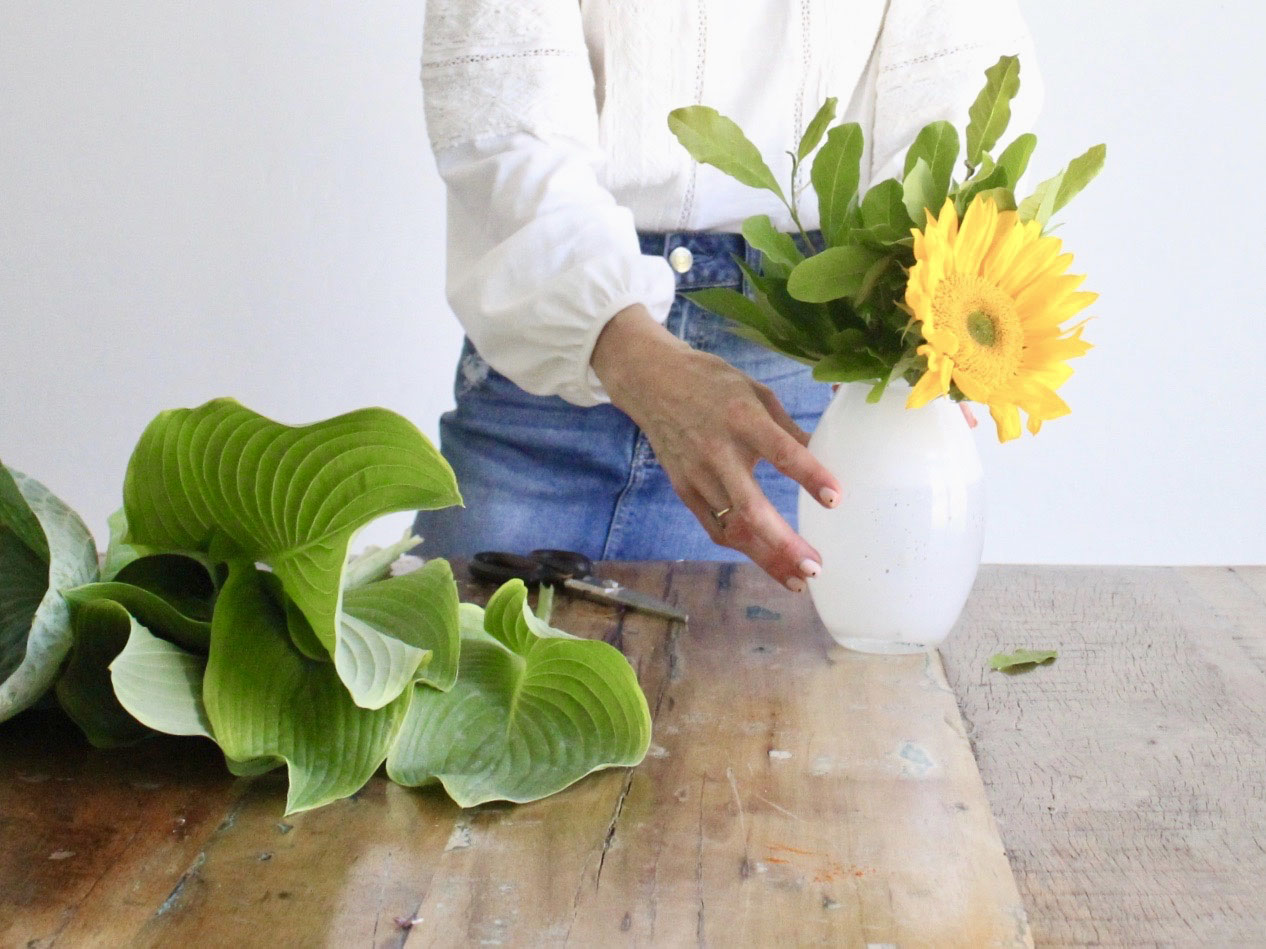 Just one sunflower and greenery from an outside bush.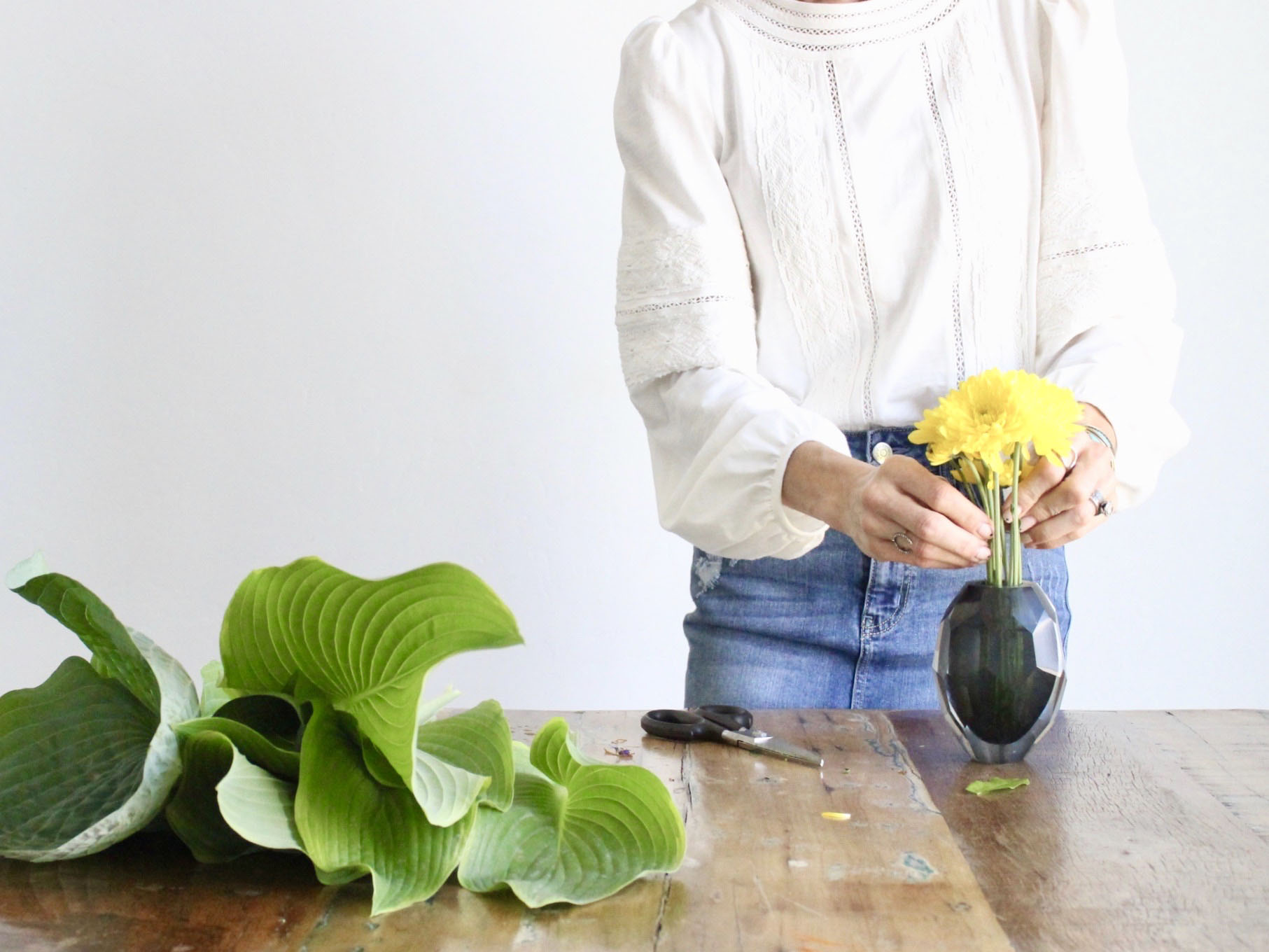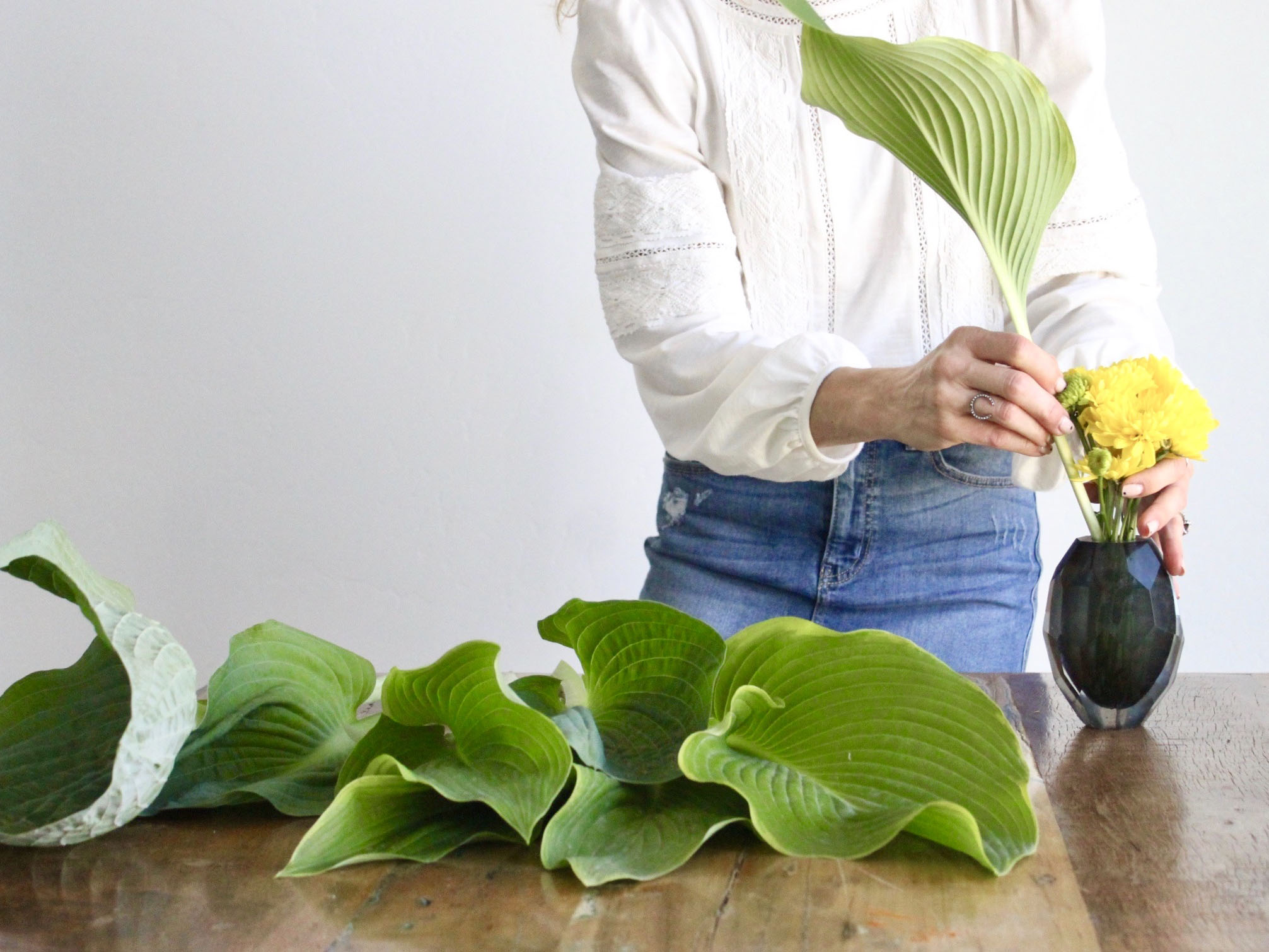 A smaller mouthed vase for the daisies with a hosta leaf to accent them.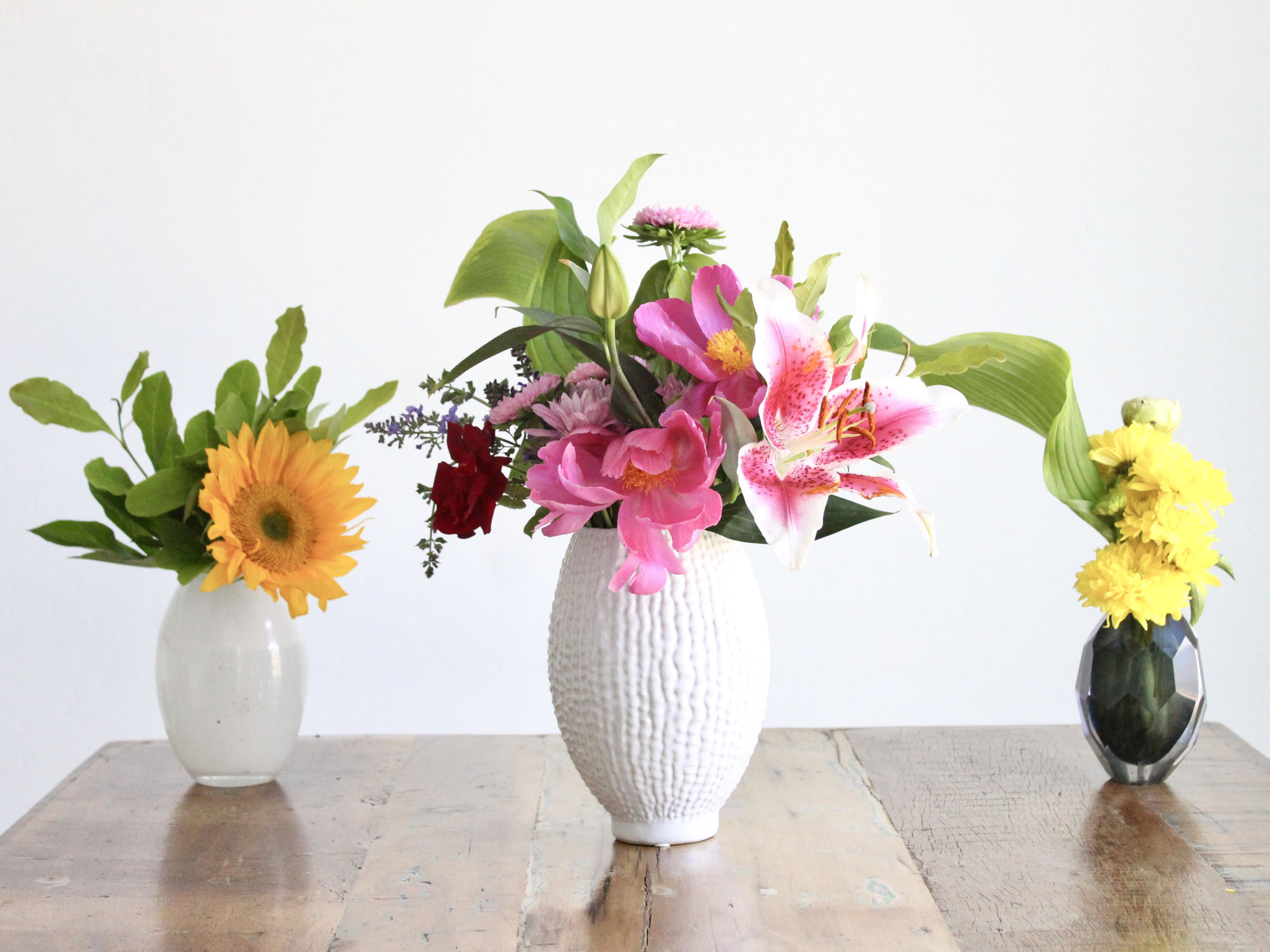 These are the final 3 arrangements I got out of one $6 grocery store bouquet. It's simple, I promise! And totally worth the small effort to make it look the way to you want it to. Have fun arranging! It's so satisfying to start out with the first picture above and end up with these:)