Sometimes it's hard to find that balance between having too much on a shelf to where it looks cluttered and too little to where it looks unfinished.
When styling a shelf, I like to start with the biggest piece first, whether it be a piece of artwork hanging or leaning on the shelf or a big accessory sitting on the shelf. Then I bring in the next biggest item. In this example it was the smaller piece of artwork (made my by 8 year old) leaning against the bigger picture that I've hung low above the shelf. I chose to hang the bigger picture instead of leaning it to give a little more height above the shelf- having some height is very important. Next I filled in the shelf with my favorite things- books, plants/florals, a petrified rock and bowl with a simple design on it. I'm not a matchy matchy designer so I like a good mix of colors, metals and patterns. Items such as books, plants or flowers and candles always tend to warm up a space so I try to have at least one of these 3 items on every shelf I decorate.
I believe that one of the most important things when layering a shelf is to choose items that you enjoy looking at and that have meaning to you. This shelf sits right next to my TV in our great room and it's what I see when I walk down my stairs every morning- so I love being able to look at items that are personal to me as well as aesthetically appealing. My daughter's artwork, the petrified rock found by my sister, leaves from one of our plants outside- all of these items collectively invoke a feeling of comfort and satisfaction when I look at them together.
To sum it up, here are my 3 tips to styling a shelf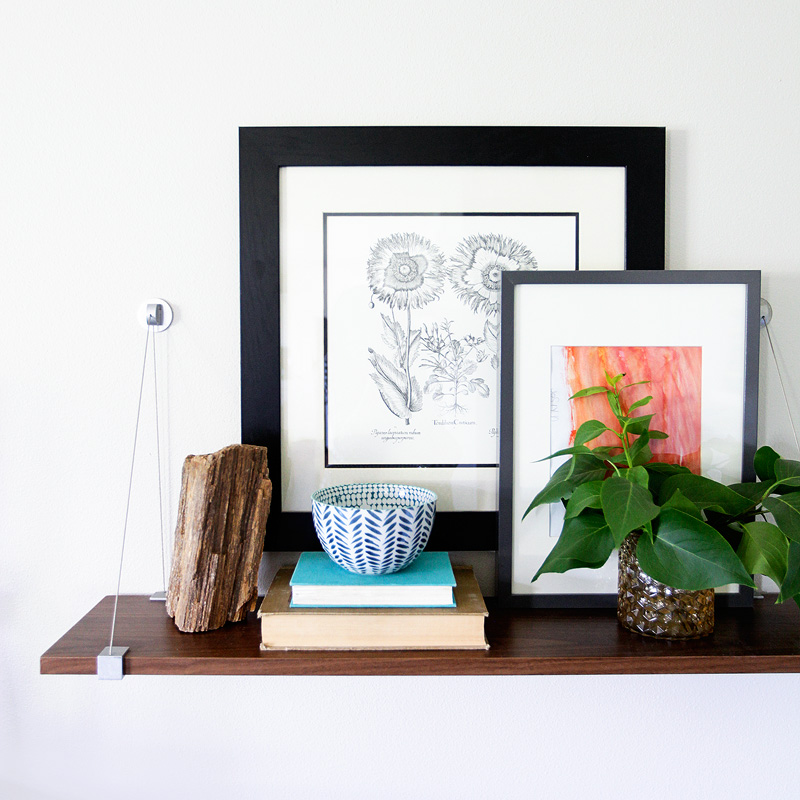 :
1- display something with height
2- put at least one of of these 3 items on every shelf- plants or flowers, books or candles
3- show accessories that have personal meaning to you